Collections
Shop for artwork based on themed collections. Each image may be purchased as a canvas print, framed print, metal print, and more! Every purchase comes with a 30-day money-back guarantee.
Artwork
Each image may be purchased as a canvas print, framed print, metal print, and more! Every purchase comes with a 30-day money-back guarantee.
About Joseph Allen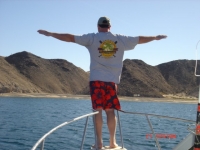 Joseph Edward Allen is a painter whose work is driven by the desire to find the emotional truth in the subjects to which he is drawn. Adept and accomplished at painting in both the abstract and the impressionist realm, his vividly colorful tropical, nautical, and nature scenarios may easily parallel reality or whimsically vary the observer's perception in line with the artist's vision.

Joseph's emotional engagement with his subjects is rendered through his trademark vibrant color palette, along with several techniques that create indelible images—noteworthy for the positive energy they create as much as any purely visual effect. Using oil paints on gesso-textured canvas and often working on a large scale, Joseph paints archetypal scenes—a billowing sail, a sun-blasted tropical beach, a vase bursting with flowers—in an abstract manner characterized by overlapping curves and other geometric shapes. This draws in the viewer immediately, and makes looking at one of his pictures an encounter that begins not with a focus on one specific point, but a flow, where the eyes follow a path or series of paths, leading to a decidedly captivating experience.

Another means through which his paintings pull the viewer in and surround them with the totality of the work is through what he calls mosaicism, in which highlighted portions of the image overlap at key points. Similar to Picasso's Cubist tactic designed to demonstrate multiple perspectives, Joseph superimposes certain elements in a picture, thereby achieving a visual effect that challenges physics, indeed defies perceptive reality. The forms are distorted somewhat, often creating in his words, a "prismatism," or prismatic dysmorphism that amplifies the work. This effective technique ultimately enhances his vibrant style of color saturation and and creates emotional immediacy.

"The overlapping shapes enhance the underlying image," says Joseph. "It makes the image less 'realistic,' but it takes the painting to another level, and renders it more engaging to the observer – a visual challenge of sorts; by truncating or distorting the image, the viewer unconsciously fills in certain parts of the picture, rendering a sense of understanding and even gratification."

Joseph's work is inevitably a reflection of his artistic family and unique background. His mother was a painter in Vietnam; his uncle, on his father's side, was a traditional landscape/portrait painter and a major inspiration. Fluent in French and Spanish, Joseph has lived in some of the more exotic corners of the world, from Persia to the Sea of Cortez and the Caribbean, and has absorbed a variety of cultural influences. "I've always gravitated to radiant places…towards the light," he says.

Undoubtedly Joseph's world travels have had a great impact on his artwork, with its vibrant colors and alluring landscapes. Yet his paintings are not mere travelogues, but serious explorations of the way things are, and more importantly, the way the mind's eye connects the external world with how we respond to it. Indeed, striking images flow effortlessly from Joseph Allen's palette onto the canvas, ultimately fascinating and then captivating the audience in a truly visual experience.